Where pristine nature and luxury coexist in harmony
Green and luxury solutions, perfect for relaxing and experiencing the excitement of camping, without giving up any of the services of a hotel room. The lodgings, all with different characteristics, are equipped with every comfort and integrate completely into the landscape that hosts them, giving unique sensations.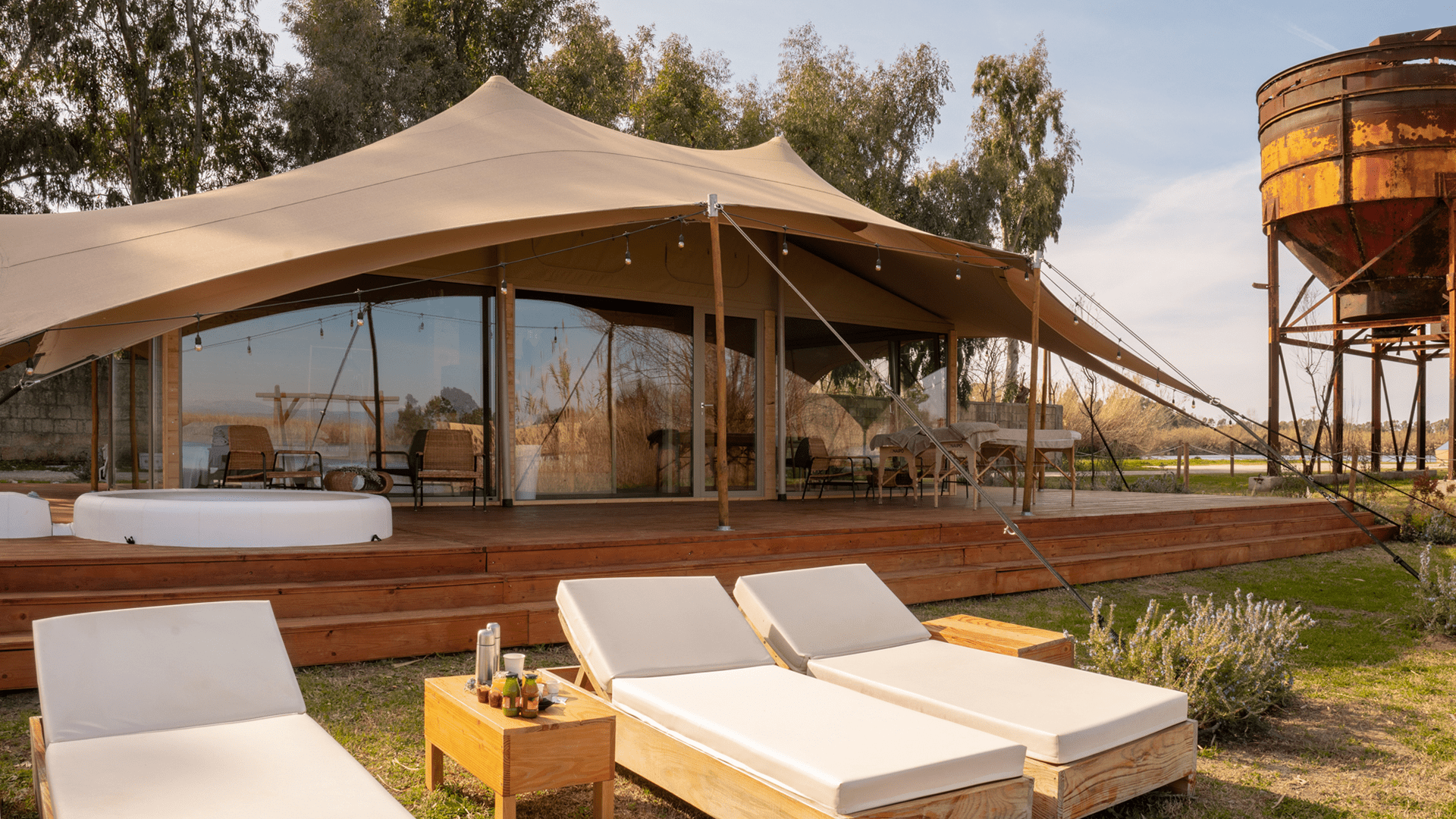 Comfortable and suggestive, the Safari Tent is ideal for welcoming couples of friends or families or simply to enjoy an additional space and live an experience of total immersion in nature. The private beach with direct access to the lake, the large outdoor patio with Jacuzzi, a bed from which to admire a breathtaking view… a small corner of paradise designed to refresh yourself and enjoy the regenerating effect of an immersion in nature.
discover more
Structures that float on the water, completely surrounded by nature and equipped with every option, floating tents revolutionize the concept of camping holidays by offering you the possibility of experiencing a stay in the wild that does not forget comfort and functionality.
discover more
Totally immersed in nature, equipped with a private beach with patio and deck chairs, the lakeside tents are the perfect choice for those who want to try out the new camping holiday concept, made up of glamorous and practical living spaces, equipped with every possible comfort .
discover more
Completely surrounded by nature, camping and comfort come together in an exclusive concept that consists of living spaces on two floors and a small outdoor terrace overlooking the lake: the superior tent is perfect for an exclusive stay of well-being and relaxation.
discover more
Modern lines and essential design, the Deluxe Rooms have an outdoor patio overlooking the garden and a private whirlpool tub: ideal for a romantic getaway in nature in the name of comfort and relaxation.
discover more
Equipped with a private outdoor patio overlooking the lake with attached Jacuzzi, our Suites combine luxury with the intimate atmosphere of nature, becoming the ideal place to regenerate yourself, surrounded by a unique and evocative setting, and to enjoy moments of pure relaxation.
discover more
Floating structures, surrounded by nature and located on floating platforms, the Exclusive Lodges have a modern and contemporary design that welcomes you and draws you into a unique experience of comfort and relaxation, an ideal refuge for resting in nature on a stretch of water.
discover more
We are part of the Nabi Lakes
The NABI Resort & Glamping is one of the hotels in the Nabi Lakes natural oasis, where historical memory, nature and well-being integrate and coexist in harmony.
Laghi Nabi is the point of reference for those who want to discover the beauties of the Neapolitan area, and a destination for those who want to fully enjoy breathtaking scenery and experience exclusive adventures immersed in privacy and the beauty of nature.